The Light Fantastic
September, 2016
ISBN: 978-0-7636-7851-7 / 304 pages
Publisher: Candlewick
Purchase: Candlewick / Your local bookstore (Indiebound) / Amazon
Delaware, the morning of April 19. Senior Skip Day, and April Donovan's eighteenth birthday. Four days after the Boston Marathon bombing, the country is still reeling, and April's rare memory condition has her recounting all the tragedies that have cursed her birth month. And just what was that mysterious gathering under the bleachers about? Meanwhile, in Nebraska, Lincoln Evans struggles to pay attention in Honors English, distracted by the enigmatic presence of Laura Echols, capturer of his heart. His teacher tries to hold her class's interest, but she can't keep her mind off what Adrian George told her earlier. Over in Idaho, Phoebe is having second thoughts about the Plan mere hours before the start of a cross-country ploy led by an Internet savant known as the Mastermind. Is all her heartache worth the cost of the Assassins' machinations? The Light Fantastic is a tense, shocking, and beautifully wrought exploration of the pain and pathos of a generation of teenagers on the brink—and the hope of moving from shame and isolation into the light of redemption.
"A worthwhile, chilling novel that makes demands of its audience and rewards them richly in return." —Kirkus Reviews (more)
"Unexpected moments of tenderness and salvation cast a shining light into the dark realities presented." —Publishers Weekly (more)
"A burning, beautiful, and ultimately hopeful panorama of the destructive impulses inside us all."
—E. Lockhart, NYTimes bestselling author of We Were Liars
The Light Fantastic on GoodReads
RESOURCES FOR READERS, STUDENTS, EDUCATORS
Discussion Guide for The Light Fantastic (PDF)
Author's Note for The Light Fantastic (PDF)
---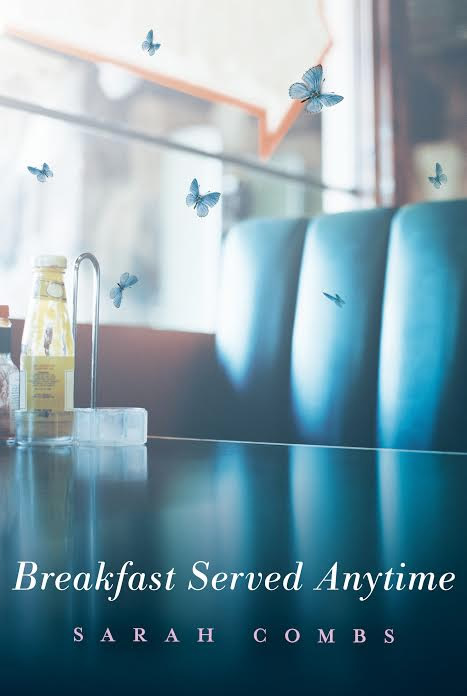 Breakfast Served Anytime
April, 2014
ISBN: 978-0763687526 / 272 pages
Publisher: Candlewick
Purchase: Candlewick / Your local bookstore (Indiebound) / Amazon
When Gloria sets out to spend the summer before her senior year at a camp for gifted and talented students, she doesn't know quite what to expect. Fresh from the heartache of losing her grandmother and missing her best friend, Gloria resolves to make the best of her new circumstances. But some things are proving to be more challenging than she expected. Like the series of mysterious clues left by a certain Professor X before he even shows up to teach his class, Secrets of the Written Word. Or the very sweet, but very conservative, roommate whose coal-industry family champions mountaintop removal. Not to mention the obnoxious Mason, who dresses like the Mad Hatter and immediately gets on Gloria's nerves — but somehow won't escape her thoughts. Beautifully told by debut author Sarah Combs, this honest and touching story of growing up is imbued with the serene atmosphere of Kentucky's natural landscape.
"In a promising debut, Combs crafts a strong, memorable female character and a broad collection of fully fleshed-out secondary players who share a magical summer." --Kirkus Reviews
"This debut novel is a gem. It captures and holds the sweet essence of those fiercely intense relationships that often blossom during the enforced intimacy of sharing rooms and assignments. It handles literature, friendship, heartbreak, and joy with equal tenderness... This is a beautifully written coming-of-age novel with characters so detailed readers feel that they know them and dialogue so natural, readers feel as though they said it. —VOYA
"Beautifully drawn characters populate this affecting first novel, each of them real enough to be hug-worthy. It is a story of friendships more than of young love (though a blushing crush certainly fits in nicely), and when a gay character comes out to her friends, it is handled without gasps or fanfare. There is much to be savored in this book for those who want a story about real life and real friendship." —Booklist
"Combs's debut introduces a vivid, self-aware protagonist at a significant juncture in her life. ... Infused with romance and intellectual energy, Combs's story eloquently captures the euphoria and transformation that can arise from an intense period of personal introspection. Gloria's Whitmanesque quest for visceral experience is exciting and inspiring, as is her ability to recognize the significance of quiet moments as they unfold." —Publishers Weekly
"Earnest... Ambitious... The author's palpable affection for her state and the sweet-as-Kentucky-pie passages guarantee that Breakfast Served Anytime will have solid regional appeal." —School Library Journal
"Combs' language has moments of poignancy, illustrating a sensitive understanding of the inner and outer worlds of gifted adolescents and ultimately providing ... readers with a heartening message about leaving a home one loves and moving into the larger world of adulthood." —Bulletin of the Center for Children's Books